---
Israel`s first single malt whisky - Single malt in Kenya-M&H Israel whisky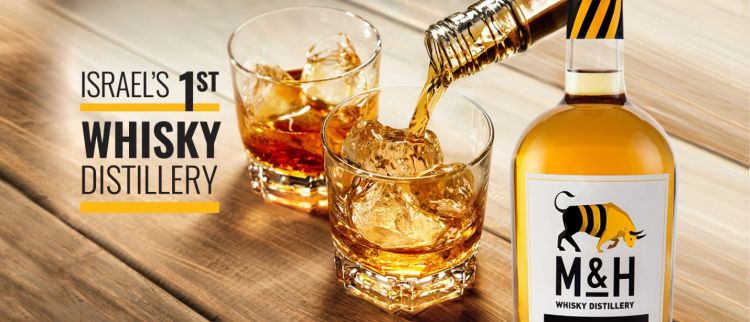 Israel`s first single malt whisky - Single malt in Kenya-M&H Israel whisky
Four years ago,no one would have imagined that one day whisky delivery nairobi service providers could deliver a Single Malt whisky from Israel,the Holy Land.
Well,the good news is that Israel have just unveiled their first single malt whisky,the M&H Single malt whisky The whisky is now available for sale after its International market was launched in the early weeks of August 2017.
M & H distillery boasts of distilling this new drink is now able to fulfil its long awaited promise as their spirits are now of age,3 years.Most drinks available at whisky delivery Nairobi are aged between 3 to 50 Years
The minimum age of spirits used in making a single malt whisky is three years.
Eitan Attir, the CEO was elated in leading the step as he released the first batch of milk and honey whisky to markets beyond the borders of Israel.During this important date in the distillery`s history,the CEO announced that their production has increased threefold and that their strategic plan is increase production to more than 700 barrels over the next few years.
This will be achieved due to the increase of human labour in the distillery and the various equipments and resources set to support whisky production upto 1 million litres annually.By the year 2019,they hope to have enough output to warrant export.
The spirit is already on sale in Israel through a reknowned distributor who has partnered with the distillery to sell their gin and the young single malt.This will increase product penetration and support marketing efforts and creating brand awareness for the whisky.
M & H has also been running a visitor center since April 2016 at the distillery where over 300 whisky enthusiasts sample their spirit.
The centre,based in Tel Aviv,Israel`s capital city is frequented by four types of visitors,
The general public-everyone is invited to a tour of the distillery.
Tourists-For the first time in Israel`s history,whisky tourism is becoming a recognized revenue.
Corporate visitors- for team building activities.
Players in the liquor industry including bar owners.
The peak of every tour is the tasting part where visitors give their opinions on the spirit and their personal tasting notes.This is essential as it is regarded as customer feedback.
Their market outside Israel is basically all whisky lovers from around the globe.Their quality standards are set high enough to be mentionable alongside Taiwanese Single Malt whiskies which have actually been recognized as one of the best single malt whisky brands with exclusion of the Big five countries known for their expertise in Single malt whiskies.
M&H Whisky Distillery utilizes the Scottish Technique to guarantee quality.Due to the high temperatures in Israel,their mash matures faster.The popular whisky consultant,the late Jim Swan helped them design their own process.
Tomer Goren, the head distiller,is also furthering his studies to become a master Whisky distiller.After more than two years of trial and error,their recipe results in a whisky that is Mellow with notes of fruitiness resulting from the barley and is also non-chill filtered.
The Milk and Honey Single malt whisky is sold at 46% alcohol by volume.
During an auction held between 11th August and 21st August,M&H Whisky distillery sold 391 bottles of drinks that were aged three years,since a 2013/2014 experiment.Some of these bottles were sold for $120 in Israel while the others found their way beyond the Holy Land`s borders in customized hand-made packaging.The drinks are already sold out at the visitors` centre and at the distributor`s too.
Although this drink is not yet on the list of Single malt whisky delivery in Nairobi,we hope that it will soon be available to the relevant alcohol distributors in Nairobi can soon have a taste of Israel`s first single malt whisky.
Check out the wide variety of single malt whiskies in Nairobi at www.dialadrinkkenya.com Kenya`s favourite online liquor store popular for whisky delivery in Nairobi.
To buy milk and honey whisky,contact dial a drink Kenya through 0723688108 or visit their website to experience fast and free whisky delivery in Nairobi.