---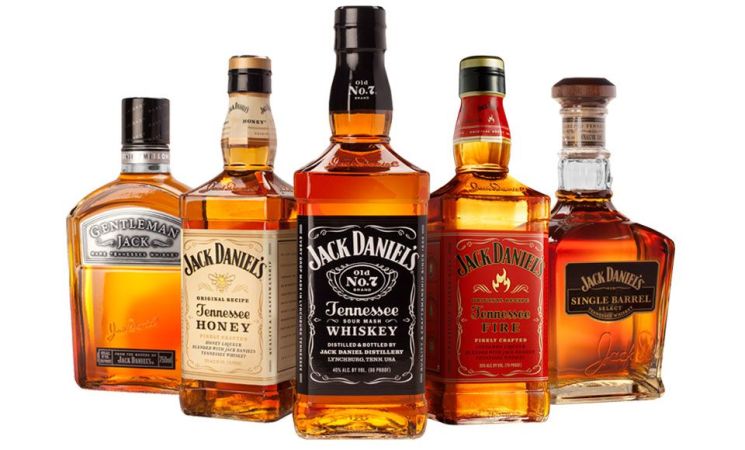 Jack Daniel`s is one of the main whisky brands specifically American whiskies.They are also known as tennessee whiskies although other whisky regulations would classify such whiskies as bourbon whisky.
Jack Daniel`s is such a powerhouse in the whisky industry and this can be largely attributed to its longstanding existence,variety of whiskies under the brand,high quality,efficient global distribution and availability of its whiskies.
Whiskies under the jack Daniels brand include;
Jack Daniel`s Old No. 7
The Jack Daniel`s Old no.7 is perhaps the oldest and most popular of the jack daniel`s whisky brands.
Also called Jack Daniel`s Sour Mash,this is the standard brand and the flagship brand of the tennessee whisky powerhouse.So popular is this brand that most of its enthusiast call it the Jack Daniel`s Original and it is also one of the most popular whiskies in Kenya and at Dial A Drink Kenya.
At whisky delivery Nairobi,Jack Daniel`s is available in 4.5litres,1litre,750ml and 375ml.
Gentleman Jack.
Uniquely packaged and adequately aged,this mellowed whisky is available in 1litre and 700ml at Dial A Drink Kenya.
It can be considered the second most popular tennessee whisky in Nairobi.
Jack Daniel`s Fire
Fairly new in the kenya whisky industry,Jack Daniel`s Fire is cinnamon flavoured and is the first flavoured tennesee whiskies available at Dial A Drink Kenya.
Its bottle is designed more or less like the Jack Daniel`s Sour Mash.
This is tennessee whisky infused with honey.it is available in 750ml and 1litre at Dial A Drink Kenya.
Jack Daniel`s Silver Select
This is one of the most uniquely packaged Jack Daniel`s Whisky,a short squared bottle with a long snout and large cork.This makes it perfect for a gift as it also comes in a sturdy company-branded box.
It comes only in 700ml
Jack Daniel`s Single Barrel
This tennessee whisky looks more or less like the Jack Daniels Silver Select only that the dominant colour on it is black.
See more varieties of Jack Daniel`s tennessee whiskies at www.dialadrinkkenya and enjoy free and fast drinks delivery for Nairobi and its environs.